Hoang Huy Group had a private meeting with Hexagon in Hochiminh City
(Updated: 27/6/2019)
On June 26th, 2019, Hoang Huy Group (HOSE: TCH) had a private meeting with Hexagon Investment Consulting - a Korean financial consulting firm to update information of the company and find investment opportunities from international investors.
Mr. Nguyen Huy Duong – CFO of TCH (right) was shaking hands with Mr. Jaeuk Kim - CEO of Hexagon (left)
Hexagon Investment Consulting is a reputable Korean financial consulting firm, which has a big customer network in Korea and Southeast Asia. With a large number of partners and many years of experience, Hexagon has connected hundreds of enterprises to investors, Including many Vietnamese enterprises.
During the visit to Ho Chi Minh City at the end of June 2019 for the purpose of meeting potential Vietnamese company, Hexagon arranged an encounter with TCH to update the business results and prospects of the company, thereby introduce and advise Hexagon's partners and investors in Korea as well as other countries to invest in TCH in the future.
At the meeting, TCH updated information of the company as business results in 2018. The company's leaders also shared about the potential of Vietnam's economy in general and the markets and areas which TCH are investinging in particular, as well as the orientation of business plan in 2019 and futher.
Besides U.S. tractors business, Real Estate will be a strong growth factor in the coming years. Currently, the company is entering a high investment phase with a series of large real estate projects that are expected to bring great business efficiency in the future such as the Gold Tower project in Hanoi or Pruksa Town urban area, apartment complex HH1, HH2, HH3, HH4 in Dong Quoc Binh Ward, Hoang Huy Riverside project, Hoang Huy Mall, Hoang Huy Commerce and Hoang Huy - So Dau in Hai Phong.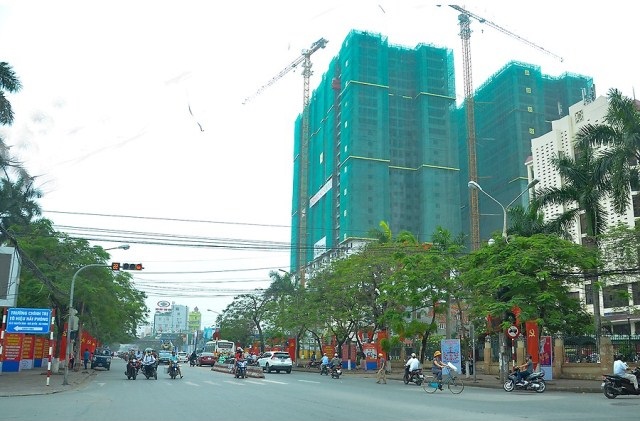 TCH has just built the roof of HH3, HH4 Dong Quoc Binh project in Hai Phong in May, 2019
In recent years, TCH has been continuously interested and invested by many international investors, holding up the proportion of ownership. Especially in March of this year, TCH also successfully issued 50 million USD bonds to major investors of Korea.
(TCH)
Tin tức khác