Innovative IR (Investor relations) - new trend of listed enterprises
(Updated: 8/5/2017)
Instead of using roadshows that may cost billions, many listed companies are shifting to IR (investor relations) in an innovative manner and creating their own impression. The recent meeting with Hoang Huy Group's investors via Livestream is a good example.
"Change the taste" for shareholders and investors
The "Meeting and talking with investors" of Hoang Huy Investment Services Securities (Stock Code: TCH) has attended by not only 200 people, but also 20,000 people followed the event online. Through online TV, the Livestream makes the organizers happy and very satisfied.
It shows that despite being a newly listed company for about 6 months, TCH has attracted considerable attention from investors.
Surprisingly, many investors who come to the event are not those who are buying TCH shares. They are professional stockbrokers on the market and come to the event because of "curiosity" because this is the first time a listed company holds an open talk, online with investors, even the public Livestream.
"I attended a lot of workshop and roadshows, but I liked the way that TCH works, because the roadshows limit the attendees. Even a large company can only invite more than 1,000 people while Hoang Huy doesn't limit the attendees" said Nguyen Tan Dat Thanh in HCM City, a professional stockbroker.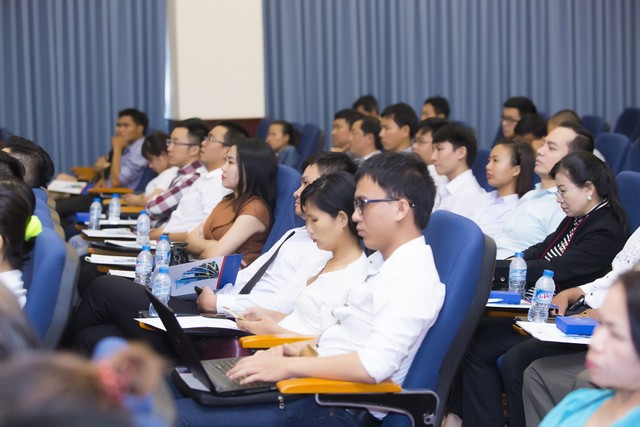 More than 200 investors attended the live Roadshow in the hall and more than 20,000 people watched the show lively via the web
Indeed, the event attracted a high number of attendees with just over 200 shareholders attending the conference hall directly, but more than 20,000 people watched the event online via Hoang Huy Group's website. , TV channel, Fanpage on Facebook at the same time.
The number of people watching the video after the Livestream up to the present time even reached approximately 100,000 viewers, partly because many people have missed the event or want to watch by just one click, easily and quickly.
TCH has changed the "taste" for shareholders and investors, the event is very interesting, especially the Q & A, which is straightforward and transparent, and provides interesting and reliable information. This new way of interaction increases the number of new questions to 169 questions. Many large-scale roadshows, costing tens of billions of dong I have participated in, are not as effective as Hoang Huy's, "said Nguyen Phuoc Huyen Anh, a real estate investor.
For listed businesses, this is also the opportunity to "show" the professionalism, creativity in shareholder relations.
"Since Hoang Huy was listed, although the company received a lot of attention of investors at home and abroad, but operation and geographic conditions make it uneasy to establish extensive and effective shareholder relations". Mr.Do Huu Hau, Standing Deputy General Director of Hoang Huy Group said frankly.
"Direct talk with investors in the hall as well as through online channels is the" intention of TCH "to make sure that investors who cannot attend can still send questions to the Board of Management for answers.
Through the event, we look forward to building an effective bridge between investors and the Company.
We are willing to listen, share the necessary information so that investors can fully understand the situation of production and business activities, the development orientation of the company, "said Mr. Hau.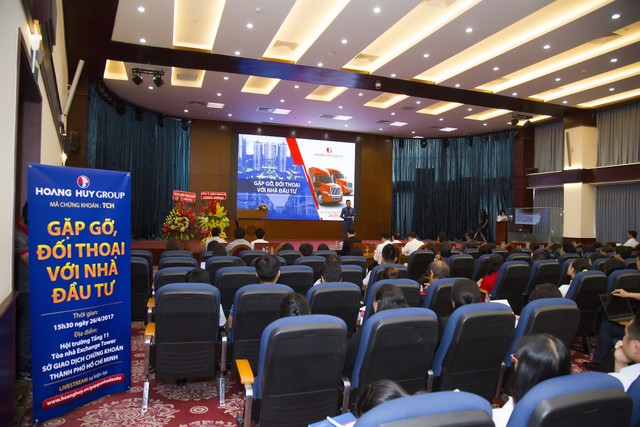 The success of the event, livestream via the internet and a website, online TV channel or facebook social networking site is likely to start a new interactive trend among listed enterprises, shareholders, investors
Innovative IR, listed companies become more confidence
At the event, representatives of Hoang Huy's two main core business segments, including tractor and real estate business, provided answer to investors questions.
Good business results (2016 revenue reached over VND 1,400 billion, 30% growth compared to 2015, profit after tax exceeded VND 500 billion), together with the strategy of development having many breakthroughs (expending the sale of American International tractor, aiming to target 5,000 vehicles per year nationwide, organize the 3S service system, increasing utility and experience for users).
At the same time, the company will increase the proportion of investment in expansion of new real estate projects, which aims to provide about 10,000 affordable apartments with good location, high quality, and reasonable price. "Hoang Huy" has succeeded in convincing many new investors to be interested in TCH shares.
Mrs. Lam Minh, a securities investor who participated in the event saidexcitedly: "After this event, I will focus on buying TCH." Hoang Huy's business information is very attractive as the company is operating effectively and has high potential.
Moc Thuy, an investor who was invited by Mrs. Minh, also commented: "TCH has just been listed so investors have just explored and are now directly hearing potential information about the company's business and the stock prices are very reasonable, many investors can afford the shares. After this event I am sure there will be more interested investors. The company is doing well, this plan is entirely feasible".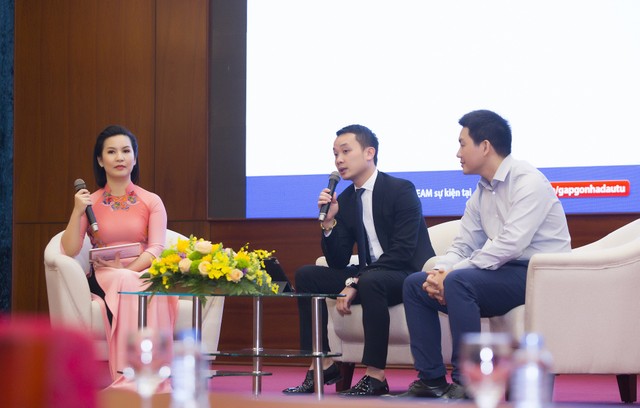 Mr. Do Huu Hau, Deputy General Director of Hoang Huy
Answering the question raising by Mr. Minh Duc and Mr. Hoang Thang attending the event regarding to the oversupply of apartments, claiming that there may be a real estate bubble, Mr. Hau "reassure" them that Hoang Huy shall not worry real estate bubble because it focus on affordable housing development, with price of only about 500 million per unit.
This is a segment with undersupply, the success of Hoang Huy in the low-income housing Pruksa Town Hai Phong is the most decent evidence.
The announcement of Hoang Huy claiming to provide apartments priced at 500 million dong makes shareholders and investors surprise to enjoy. Investor Hoang Thang asserted: "The vision of the leader Hoang Huy is really far and wide. This is the attractiveness of stock Hoang Huy, a relatively quiet business before the media".
Confirming this, Hoang Huy Chairman, Mr. Do Huu Ha, Chairman of the Board Hoang Huy Group in his speech confirmed: "The whole orientation before and after listing of globalization is transparent and effective. The company will always be oriented towards sustainable development in production and business, while ensuring the interests of shareholders.
Financial and securities experts also highly appreciated Hoang Huy's online talk with investors. At the same time, they added that from the success of the Hoang Huy meeting and talking with investors, livestream over the internet as a website, online TV channel or social network like facebook is likely to "start" a new trend of interaction between listed companies and shareholders, investors in the context of the world is becoming "flat".
Source: ĐTCK
Tin tức khác