The Wall Street Journal: The sudden increase of Orders for US truckers of transport companies due to rising demand
(Updated: 6/12/2017)
On this morning (December 06th, 2017), The Wall Street Journal (WSJ), the world's leading financial daily newspaper posted an article of Erica E. Phillips, a reporter of the industry of logistics and transportation. . The article showed that US truck manufacturers are expanding production to meet strong demand growth in 2018.
Transport companies have bought 32,000 heavy-duty trucks of the US in November 2017, according to a report by ACT Research, a unit of market research and statistics. This figure is up 70% over the same period last year. In the last two months, orders have risen to the highest level since early 2015.
Transport companies are increasing their ability and capacity as the economy grows. The demand for goods transportation has increased, shippers accept higher prices as a motive for carriers to bring more cars into operation.
The FTR, which also has the same vehicle sales figures of November as the ACT said that in the past 12 months, shipping companies had ordered a total of 274,000 vehicles, compared to 191,000 of the previous year.
"In the past few months, we have not seen anything like this," said Kenny Vieth, an ACT analyst. Vieth forecasts that demand for trucks will reach 322,000 in 2018. He says some truck manufacturers are launching plans to expand the business as the market improves.
According to Navistar's CFO, Walter Borst, at a conference of last week, said, "Truck prices tend to rise because of strong demand. A few years ago, transportation demand was lower than industry forecasts. However, many transport companies have pushed the truck up and ordered a large number of new vehicles. This also has signals from the Vietnamese market. "
During a telephone conversation last night in New York City (the morning of the Hanoi Times), the reporter of The Wall Street Journal, Erica E. Phillips and the representative of Hoang Huy Investment Financial Services JSC, Mr. Nguyen Huy Duong, CFO also said that "Vietnam's GDP growth rate is always highest in the world at 6-7%, foreign capital inflows such as SAMSUNG or LG, increase of domestic transport and especially, import and export growth of above double digits, the Government's concern about infrastructure development such as seaports, road-to-highway systems, increase of transportation demand are the driving force for the truck industry. Especially, the American International Tractors and trucks distributed by Hoang Huy Investment Financial Services JSC (TCH) is a high quality car, saving 20-30% compared to other models, so it is very economical and the demand for orders shall continue to be expanded ".
More than three weeks ago, on November 12, 1977 in Hanoi, Hoang Huy Investment Financial Services JSC and Navistar signed a trade agreement worth $ 1.8 billion on International Tractors and trucks in Viet Nam. The signing ceremony took place and was witnessed by US President, Donald Trump and the President of Vietnam Tran Dai Quang at the Presidential Palace during the official visit of US President of the United States to Vietnam.
Also in the last month in the group of truck stocks, TCH shares of Hoang Huy Investment Financial Services JSC reached the highest price. While TCH has increased by nearly 20%, HHS increased by 15%, TMT and HTL decreased or increased slightly.
Hoang Huy Investment Financial Services JSC - Stock code: TCH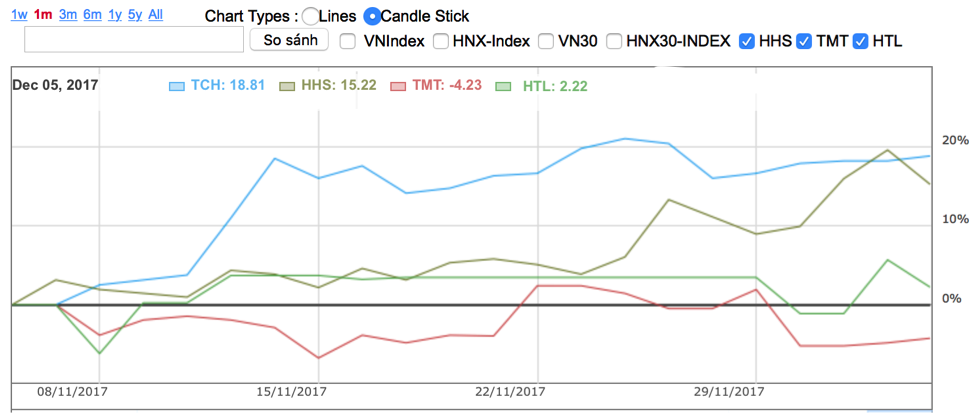 Source: CafeF
Quite similar to the trend of globalization, shares of the truck maker Navistar listed on the New York Stock Exchange (Stock Symbol : NAV) also grew significantly after this event.
Source: WSJ
NAV share of $ 37.6 / share on November 17, 2017 has so far had an impressive price increase of 11%. In the last few trading hours, NAV closed up 2.12% to $ 40.86, bringing Navistar's market capitalization to over $ 4 billion.
Tin tức khác